Edible Ink
Pens
All the products on this page are suitable for all Canon Edible Printers that use this model cartridge.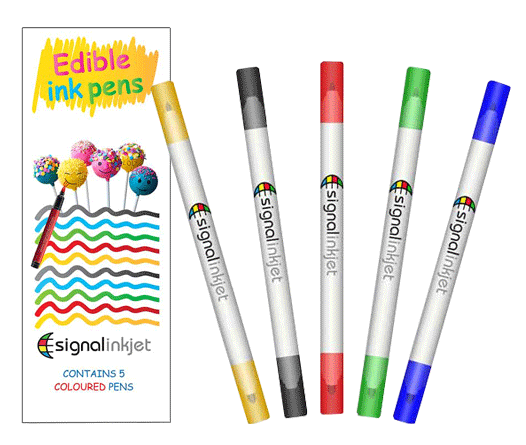 Conforms to EU Regulations
Suitable for Canon Printers
Edible Ink Pens
Twin Set Pack of Primary and Neon Colour Set
The Edible Markers have Fine Tips and Directly onto Biscuits
Dazzling Colour,
Flexible DIY to add your Child's Fun
Decorate on Fondant ,Cookie Icing, Royal Icing Wafer paper,
Pack of 5 Neon Colours
Colouring & Re-Touch Pens from Signalinkjet
Edible Ink Pens which are great for personalising any edible papers and work great on wafer & icing sheets. Perfect for adding messages or drawings on your creations.
Each Pen is double sided with a thick and thin tip.
Neon Colours Pack
Purple - Pink - Orange - Green - Blue
Ingredients: Water, Humectant: Glycerine E422, Ethanol, Colours: Riboflavin: E104, Cochineal: E120, E133, E155, E151, Acidity regulator: citric acid: E330, Emulsifier: Polysorbate 80 E433, Preservative: Potassium Sorbate: E202
Primary Colours Pack:
Black - Blue - Red - Green - Yellow
Ingredients: Primary Colours: Water, Humectant: Glycerine E422, Ethanol, Colours: Riboflavin: E104, Cochineal: E120, E133, E155, Brilliant black: E151, Acidity regulator: citric acid: E330, Emulsifier: Polysorbate 80 E433, Preservative: Potassium Sorbate: E202